Post by Ephraim on Jul 10, 2023 20:13:27 GMT -5
K A I R O S - P A C K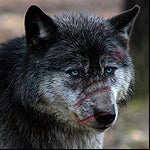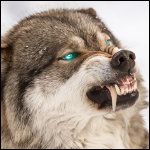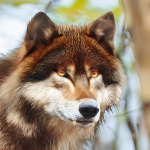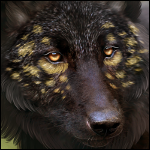 Kairos (pron. kye-ros, Ancient Greek): The brutal son of Zeus, who drank the blood of mortals; also the divine personification of opportunity and its transience.

A tale is told of a perilous land not far from Anikira's western shore, where giant wolves roam the volcanic aftermath known as Ina'mos Island, thriving amidst gore and debauchery. Whether these words are true or merely a fabrication crooned to misbehaved whelps, one thing is certain - those courageous enough to venture across the waters should prepare themselves for the very worst. Kairos is not for the faint of heart, and bravery alone offers no asylum here. Strength and size reign supreme, as this brutal pack is haven to the elite – the largest and strongest warriors on Anikira, who serve as a monument to the raw and true power of the wolf. Though it is lead by daunting beasts, Kairos encompasses an acceptance for wolves of all sizes and skills – in exchange for submission, any wolf may call this hell their sanctuary no matter their gender or frailty, and until they have proven otherwise, utmost subservience is expected. This is the root of Kairos' philosophy: that the balance between strong and weak is a vital instrument of nature, and should not be defied. It is an atrocity against nature for a weak wolf to rule, as much as it is an abomination for a strong wolf to not.

Kairos customs are modeled from Spartan culture; it is entirely patriarchal and promotes the continuation of strong heirs through the male bloodline. Though females are generally placed below males, they are not without worth - they are given due respect where it is earned. The gender roles are rigid, but it is certainly possible for women to enter the ranks of men, with enough drive and blind conviction. With the turning of the alphas, the role of the female has begun to shift from sacred vessel to more warrior and high-ranking positions, and there is always room for more. No longer will she-wolves be forced to breed, and regarded as a way to raise pack numbers.

All of Kairos live safe and heartily upon their secluded and bountiful island, never going without food or water, and lead by a young but well-intentioned emperor. Free mating is encouraged for all, and it is custom for the strongest brutes to take multiple mates if they so desire it. Kairos is forthright in taking what it wants, as is their namesake – they are not inclined towards passivity, nor do they simply hope for gain through coincidence or chance. Instead, they obstinately demand power by right, and strive to uphold strength and authority no matter the consequence, yet they do not outwardly seek violence as an end in and of itself. They are open to negotiation as any other pack would be – but they are brash in the face of adversary and hardly inclined towards truces or treaties. Caution is advised when making peace with this pack; an alliance with Kairos could be your savior just as easily as it could be your undoing. True to the momentary nature of opportunity itself, their mercy is fleeting and they seldom offer second chances to anyone.

Though outwardly merciless, Kairos places great value upon its own members, but their regard for any outsider is nil unless they offer some form of gain. Despite what the crude whispers might have you believe, Kairos is not some crazed gang of rapists and conquerors, though such beasts may exist in their ranks – at its core, it ultimately seeks the protection of its family, and its coveting of power is merely a means to achieve this. Whether true warriors or simply glorified brawlers, Kairos is a force unlike anything that came before it, intent on supremacy and incapable of surrender.




H I S T O R Y

It is bizarre to think that a pack so abundant in strength could have arisen so suddenly, and seemingly from nothing, but the path that forged Kairos into existence is one besieged by carnage and malice. Originally born to the alphas Belial and Ahri of the Ferus pack, a result of their mother's rape, Goliath and his siblings lived only a few short months before their home was set upon by the brutal mob known as Osani – their pack was all but slaughtered in a covert yet inexplicable massacre, and the remaining wolves yet to be slain fled from Ina'mos, assuming that their entire pack had been abolished. Goliath, Saosin and Aaricia were the final and only remnants that remained of Ferus, and unaware of their siblings' survival, they disbanded for over a year, hardly unscathed and very much alone.

Goliath spent the entirety of his youth in solitary, fending for himself and warding off any that approached with hostility and bitterness, festering in what would later become the irreversible spur of madness. He mourned in silence for his family, especially his youngest sister whom held his utter infatuation, and his complete seclusion forged him into a rather misunderstood and fierce giant, his beastly size imparting a brutish confidence in his otherwise cold manner. Finally, it was in the throes of his acceptance for his family's death that he came upon Datura – a female weakened by her journey to Anikira – and in her proud yet enfeebled state, Goliath was quick to enforce his claim upon her, death being the only freedom from him.




Not long after this, he encountered a brute equally as impressive as himself, who outmatched his height and humbled the otherwise arrogant Goliath – Titan, similarly impressed by the other's mad boldness and conviction, found his domineering ambitions aligned with Goliath's, and the two found common ground that lead towards the vision of a pack where the strongest, rightful leaders would guide the weak towards a harmonized greatness. He, as the alpha, and the formidable Titan as his beta - there was nothing in his sights that two mighty giants would be unable to accomplish, and under their dual determination, all that affronted them would bow to their undeniable right to lead.




After an unexpected reunion with his siblings whose deaths he had long since mourned, empowered by their resurrection, Goliath decided unquestionably that he would return to his homeland and rebirth what remained of the corpse of Ferus, giving new life to the embers of an empire that would blaze under a new name – Kairos. The bloodline of alphas would continue; from his father's tyrannous dominion over Ina'mos to his grandfather's cannibal reign upon Tas'alea – Goliath had inherited the divine and treacherous right to rule, and under this deific title, he would surpass the very tyrants' blood that coursed through his lineage.

Passing on his genes to a new generation, Goliath came to realize that he had brought about a new breed of giant warriors, in particular his son Typhon. Taking after his father in both size and mentality, the unstable brute participated in the Agoge and went straight to swiping the land from under another pack's paws, serving to expand Kairos' territory and thoroughly impress his family and pack. After the birth and subsequent training of his first litter, the Emperor found himself longing for the past. He and his matriarch fled the island shortly after their son's conquest, leaving the future of Kairos in the hands of the young, distraught wolf. Typhon struggled to support his own tender mind as he dealt with not only the abandonment of his parents, but the new responsibility he carried upon his shoulders. Eventually the responsibility became too much and a new Emperor rose to lead the pack. Hyperion, also of Goliath's bloodline, took on the mantle for a time and the pack grew strong in peace. Even when they were moved to The Southern Isles by the humans, the pack survived.

Unfortunately, a time came after their return home that Hyperion disappeared. The pack faltered, and with Sabaoth (Goliath's brother) past an age to take the throne, Hektor stepped up to fill the position temporarily. The former General intended only to guide the pack during their time of loss and turmoil, in the hopes that Saboath's line would continue and bring them a new Emperor to lead them once again into an age of peace and prosperity. As Sabaoth's son Ephraim grew and the previous Emperor, too, disappeared, the son of Sabaoth did precisely as was expected of him: he moved up within the ranks after training extensively with his father to become the new Emperor.
B A S I C S
Members: 9
Lands: Ina'mos, Vor'asa
Alliances: None
Founding Member(s): Goliath, Titan, Datura, Aaricia
ELITE CLASS
Emperor:

Ephraim


General:

Brontes


Matriarch: None
Judge:

Perseus


Council:

Sabaoth



WARRIOR CLASS
Centurion: None
Praetorian: None
Vanguard:

Maliah


Executioner: None
Sentinel: None
Gladiator:

Arcturus



MOTHER CLASS
Consort: None
High Priestess: None
High Huntress: None
Emissary: None
Priestess:

Adrestia

,

Carina


Huntress:

Ferrah



YOUTH CLASS
Youth: None