Post by Sköll on Apr 27, 2021 18:32:49 GMT -5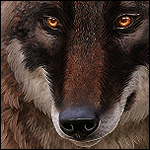 Pack colour: #750f57
D E S C R I P T I O N
Æsir (pronounced: ay-sear, Old Norse): A tribe of gods in Norse religion, which includes most of the "main" gods such as Odin, Frigg, and Thor.

Aesir is a pack built upon strength, ferocity, and glory. It is certainly not a place for the cowardly and fainthearted, nor the morally upstanding. Although Aesir is not a truly evil pack, their amorality is not to everyone's taste, and they have no problem welcoming the morally corrupt into their ranks as long as they demonstrate their value.

The pack has no dominant gender, only a dominant belief in the value of strength. Regardless of gender, breed, or size, a wolf welcome to claim a rank in any tier below The Revered, provided they can prove themselves worthy of the title. The only discrimination is based on weakness. If a wolf is weak, talentless, or pathetic, they can only claim the rank of subordinate, or they will be forced into slavery to serve the stronger and fiercer. Regardless of rank, each member is expected to have some fighting prowess, or at least be willing to learn.

From the outside, Aesir can appear to be a crude, violent, or barbaric pack, and on some level this is true. They have little regard for the lives of those deemed unworthy but, perhaps a little surprisingly, the pack reveres family on a near-sacred level. There appears to be two contradictory sides to the pack: the violent, unmerciful side shown to outsiders and enemies, and the loving, family-orientated inner life. But it is complexity, not contradiction. Despite their devotion to family, no wolf would be forced to start a family if he does not wish.

As the pack is based on Viking culture, they are also pagans, and worship a unique pantheon detailed further on.
H I S T O R Y
The origin of Aesir can be traced back many years, to the island of Anikira, when a single pup was born to two rare and ferocious breeds of wolf. The half-Dire, half-Kenai Peninsula survived against all odds, clinging to life as her littermates perished. The gigantic pair, a Dire mother and Kenai father, were stoic wanderers who passed through this territory and that, never staying long, always adjusting. Her parents taught her then names of each of the gods and goddesses that guided their lives, and instilled courage and strength in her young heart.

Under her parents strict but loving guidance, Valdís was content - for a while at least. At six months old, she witnessed her mother succumb to a deadly disease that rotted away her brain until she had no recollection of her mate, her daughter, or even herself. After her death, Dís's father was never the same, although he remained strong for his daughter. A few months later, it became clear that her father would not last much longer either. His health rapidly began to decline, until eventually he requested that Dís fight with him to the death, so that he could die in battle. It was not the glorious death he had hoped, but they both fought with all their might. At the tender age of nine months old, Valdís fled Anikira, with no intention of returning.

On the mainland of Africa, Valdís began her life anew. She travelled for years, restless and searching for some higher purpose. For a while she believed she was destined to be alone, that her gods had abandoned her. She tore through western Africa like a whirlwind; picking fights and challenging alphas, ravaging everything she crossed paths with. One fateful day though, she crossed paths with a wolf named Siggy who changed her profoundly. Convincing Valdís that she was not destined to be alone, the two began travelling together.

During her journey, she met many new faces eager to join her growing family. Some drifted away from her eventually, but others remained steadfast and loyal as they travelled, lawlessly, across the land. The ragtag group all adopted Valdís's beliefs in gods and goddesses, and of sacrifices, though each to a different degree. Some favoured one deity in particular, some chose to revere them in their entirety, and some barely believed at all. Although her beliefs were sacred and integral to Valdís's vision of her pack, it came second to the individuals themselves.

The pack thrived. Setting up their homestead by the coast, near to where Dís knew Anikira to be, Aesir reached almost 40 members at its peak. Filled with fearsome warriors, sacred healers, and skilled hunters, Valdís had built herself up from nothing and created what she had always wanted: a family. The pack, though it was more of a community, looked to Valdís's leadership at all times, and she never once led them astray. They worked together seamlessly, an unstoppable force raiding the territories of rival packs for prisoners, gaining new land to expand their growing numbers, and protecting one another with lives.

Sadly, it was not to last. One night a great fire raged across the land. Living so close to the coast, the pack was trapped, and many perished in the confusion. With a deafening howl, Valdís drew the remainder of her pack to her, and one by one they plummeted over the cliff under her direction. Valdís was the last to leave, struggling to save as many members of her pack as she could from the chaos. She watched as her oldest and dearest friend, Siggy, made one last dash toward her through the fire, watched as she fell in one heart-wrenching moment, and was engulfed by the fire. At the last second, Dís herself plunged off the cliff face and into the icy water, the final survivor of her once great pack. Desperate but still driven to survive, she made the long journey back to her birth place, where she hoped to find the rest of her pack waiting for her. When she arrived on Anikira, dripping and exhausted, there was no signs of her pack anywhere. But that will soon change.

One by one, original members of the pack will arrive on Anikira, and seek out their former alpha to regroup and rebuild the mighty Aesir once more.

And rebuild, they did. Aesir became a mighty pack once more. Through the leadership of their Hilmir - Valdís. After some time, Valdís was captured by a wolf pack, and forced to live in prison. But with the help of Volsungs, she was able to be freed. They returned to Aesir, and there their lives started anew. The pair fell in love with one another, and their love blossomed to create new life within the pack. But as Valdís grew older, Volsungs new it would be a difficult road without her. But he would accept the responsibility of taking care of Aesir, until one of his sons inherited it from him.
B A S I C S


Pack members: 4
Lands: The Oriens
Alliances: None


T I E R - O N E: THE REVERED

Hilmir -

Sköll


Jarl - None
Kyn - None
Thane -

Valkyrie


Ellri - None
T I E R - T W O: THE MARAUDERS

Hersir - None
Hirith - None
Vathi - None
Dauthi - None
Leita -

Loki


Svein - None
T I E R - T H R E E: THE ENCHANTERS

Seithir - None
Gydja - None
Laknir - None
Eithir - None
Fraethi - None
Laerling - None
T I E R - F O U R: THE VENATORS

Veithimathir - None
Veithi - None

T I E R - F I V E: THE INITIATES

Bryti -

Valhalla


Aetti -None
T I E R - S I X: THE HEATHEN

Thrall - None