Post by Jessare on May 8, 2019 9:20:25 GMT -6
[attr="class","plbase"]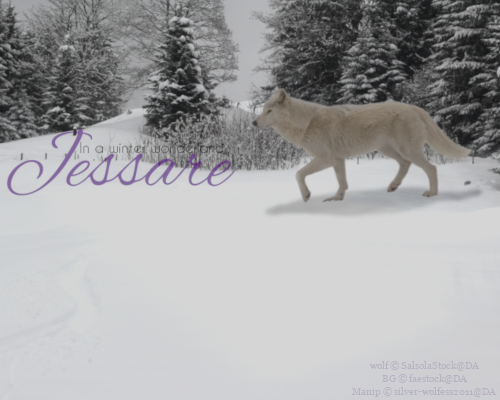 [attr="class","pltxt"]
She walks. She talks. She thinks.

The day was a good and sunny one, a gentle breeze carried over the mosslands from the ocean. From time to time a small cloud would pass in front of the sunlight and provide some shade for a moment or two. The ocean was calm with only small waves coming past the small island known as Miera on it's way to the mainland of Anikira. It was on these mosslands that the cream colored female found herself today. The day was still young with the sun only now reaching it's peak in the blue skies overhead and Jessare had managed to catch one medium sized fish for her breakfast that day before laying down atop one of the mossy rocks that covered this part of the island. She was content this morning to simply lay around, her pups had laid still in her womb and she intended to enjoy it as much as she could… took it as their first birthday present to her. Even with the passing of moons and days without her mother, Jessare knew that today was the day… she was a year older and a day closer to birthing her own children.

No sooner had the thought crossed her mind than a sharp pain started in her abdomen. The female winced in pain, wondering what could be wrong… it was certainly not a kick, but she felt it in her womb for sure… and only a moment later did she realize what was happening. As quick as she could, which being as pregnant as she was was not all that fast, she pushed herself up on all fours and headed for the dip at the edge of the mosslands that indicated where the entrance to the underwater dens were. Just as she reached the water's edge, another jolt of pain raced through her abdomen and she paused for a moment, trying to feel whether or not she needed to just lay down… but then how would she get her pups into the safety of the dens? Jessare waited for the pain to subside before she let out a short howl, she wasn't sure who was around to hear her or if any of them would want to be present… but she at least hoped Valdis would hear her and know she was having her pups. She then took a deep breath before entering the water and going under, popping up inside the caves a few seconds later. She swam to the edge of the shore and pulled herself up onto the dry surface, stopping to catch her breath and wincing again as another shock of pain seared through her… she had been warned that giving birth would be painful… but she had no idea that it would be this painful. The green-eyed wolf shook out her pelt as best as she could and then made her way to the den she had prepared for her to birth in and for the pups to live and grow in for the first couple months of their lives.

She circled the bedding, mostly moss and a few tangles of seaweed that had been caught in the pass, and finally laid down to get comfortable. She looked out one more time toward the main area of the caves, wondering if anyone would be there with her for the birthing of her first litter as they had been for Valdis's… or if she would be going through it alone. Another contraction came and Jessare almost whined out loud with the pain… she knew she would have to start pushing soon, but she wanted to see if at least Hoenir would come and be able to provide something to help lessen her pain. She rolled onto her side and lay her head on the moss beneath her for a few seconds before lifting it to look at her own belly again, "Well… happy birthday to me I suppose… what better gift than that of life, right?" she murmured to herself before laying her head back down and taking deep breaths... the time had come.


words; 682
tagged; Open
notes; Here they come!

[newclass=.pltxt]position: relative; z-index: 200; opacity: 0; transition: all 1.5s ease; -webkit-transition: all 1.5s ease; -moz-transition: all 1.5s ease;[/newclass][newclass=.plbase:hover .pltxt]opacity: .7;[/newclass][newclass=.pltxt::-webkit-scrollbar]width: 8px;[/newclass][newclass=.pltxt::-webkit-scrollbar-thumb]background: #91a1a5;[/newclass]