Post by Jessare on Apr 12, 2019 19:27:25 GMT -6
[attr="class","plbase"]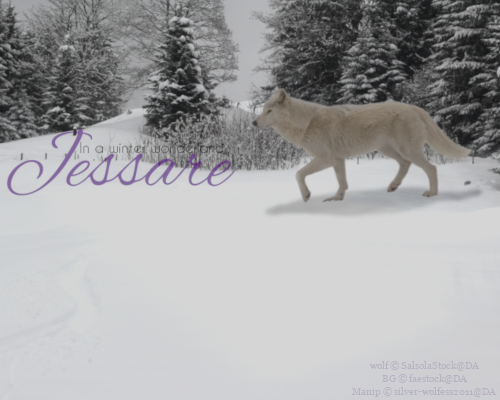 [attr="class","pltxt"]
She walks. She
talks.
She
thinks.
The day had started off rather cold and foggy, the sky overcast with what appeared to be rain clouds with winds that would hopefully carry the rainclouds inland before they dumped heavenly waters over the land. The rain had felt nearly constant now that Spring had arrived, and while the cream pelted wolf was beyond relieved that the snow was finally done and over with, she found that she was rather displeased with all the rain… yet in her experience, more rain meant more grass and foliage for more prey, and more prey was always good. Especially with pups coming to Aesir, the green-eyed femme silently prayed her thankfulness to the Gods… surely Aesir was blessed in their eyes!
Jessare carefully made her way over the moss covered rocks that covered her home. She had spent the last couple days gathering some of the soft lichen to line her little nest of sorts in the dens, a little softness to aid the pups' transition from her womb to the outside world that she had thought of after witnessing Valdis give birth to her own litter not too long ago. Today however, she was not focusing on gathering more moss, no… today her focus was on food, specifically the fish that she had gained more of a liking for as her pregnancy had progressed. She tip-toed to the edge of one of the numerous streams and peered into the crystal clear water, glad to see there were still fish aplenty within it! Jessare licked her chops and waited patiently for a fish to get within her striking range, and once it did she lunged at it was her maw parted, teeth bared and ready to capture the fish. When she felt her jaws close around the scaly creature, she quickly tossed it back onto the moss-covered rock she stood on and placed a forepaw on it as she tore into it's throat, quickly killing the fish as it continued to try to flop it's way back to safety.
She murmured a quick prayer to the Gods, thanking them for allowing her another meal, before essentially devouring the fish, careful to pick her way around the fragile bones. When she was finished, she let the bones fall back to the stream, watching with interest as its very comrades returned to it's carcass to clean what little flesh and organ she had left on it's skeleton. She stood up and stretched before slowly making her way to a wider rock, the pups were moving within her womb and she needed a better place to lay down until they calmed enough for her to move comfortably once more. Once she reached the wider rock, that was exactly what she did. She lowered herself on her haunches with care and slowly lay down and rolled onto her side, panting with the effort. She let out a small grunt as she felt one of the pups kick at her ribs. She couldn't wait to give birth and get the wriggly things out of her, not just for her own comfort and the return of her normal body… but she was ready to meet them. She sighed as she looked up at the overcast sky, wondering if anyone else from Aesir was making their way along the same part of the island that she found herself on.
words;
560
tagged;
Loki
notes;
Hope this is a decent starter! <3
[newclass=.pltxt]position: relative; z-index: 200; opacity: 0; transition: all 1.5s ease; -webkit-transition: all 1.5s ease; -moz-transition: all 1.5s ease;[/newclass][newclass=.plbase:hover .pltxt]opacity: .7;[/newclass][newclass=.pltxt::-webkit-scrollbar]width: 8px;[/newclass][newclass=.pltxt::-webkit-scrollbar-thumb]background: #91a1a5;[/newclass]